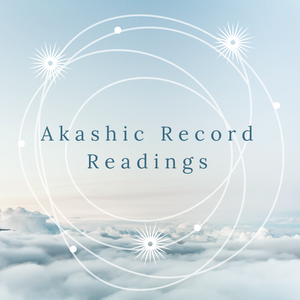 What are the Akashic Records?
"Akasha" is a Sanskrit word, and means "Primary substance," that out of which all things are formed. The Akashic Records are a dimension of consciousness. What's held within the Akashic Records is a non-physical, vibrational archive of every soul and its journey. Imagine the records to be a vast library, in which every human life is recorded for all eternity on a nonphysical spiritual plane.
What is an Akashic Record Reading?
The Akashic realm is the highest energetic realm. It holds every single thought, every action, and every experience throughout your entire soul journey. The records span through past lives, present incarnations, and future possibilities. An Akashic Record Reading grants you visibility, insight, and understanding into your current life's circumstances from the view of your soul. Differing from an Intuitive Reading, which provides a narrower perspective, is generated towards an outcome, and the information is sourced from guides, angels, Archangels and so forth, an Akashic Reading offers a broader perspective to understanding who you are at a Soul level, from the perspective of your Soul. Please note you must be 18 years or older to receive an Akashic Record Reading. If you would like a reading for someone younger than 18 years old, please reach out via Contact Us for guidance. 
What Are The Common Benefits of an Akashic Record Reading?
Akashic Record readings are an empowering, self-discovery tool that provides a better understanding of oneself, life lessons, and a discovery of the current opportunities available to shift, heal, and grow from the perspective of your Soul.
Different than Intuitive Reading and Crystal Readings, receiving an Akashic Record Reading is an intimate, unique experience between the individual whose Records are being read, the practitioner, and the source energy of one's consciousness.
Whether faced with seemingly unattainable goals, challenging issues or concerns, chronic conditions or even if your life experience is unfolding with ease, an Akashic Records Reading reconnects you to your soul truth and expands your understanding of who you are, the lessons and opportunities before you, and illustrates the choices available to you on your path. Free will is always in play. The benefits of an Akashic Records Reading are many. The following are some of the most common:

Identify your soul's core traits and characteristics that contribute to your human personality
Better understand your pattern of interactions with others
Deepen your understanding to the influences as to where you are now, where you want to be, and your next steps in any given circumstance or situation
Recognize blocks to achieving your goals and highest potential
Explore your Soul purpose and life path.
All areas of life addressed: relationships, finding a mate, co-workers, family, children; Financial and money concerns; Work-related situations; Life path and meaningful work; Health; Pets and animals
What Can I Expect?
During an Akashic Records Reading, I access the Records using the sacred prayer tradition with The Pathway Prayer Process©, divinely downloaded by Dr. Linda Howe, which allows me to access your Soul's journey as a human throughout time on this planet. I am a facilitator of information during an Akashic Records Reading. The source of the information is provided by your Masters, Teachers, and Loved Ones. Note, this source is different than with an Intuitive Reading or Crystal Reading as the source of those readings may include guides, angels, Archangels and so forth and are oriented to a particular outcome.

During the consultation, you will ask 3 -5 questions. Questions beginning with what, how, or why, generate the most helpful answers. However, time-related, "should I vs shouldn't I?" and "yes or no" questions tend to provide the least amount of information.
Questions addressing chronic patterns, relationship issues, life transitions, and/ or a desire to uncover the underlying causes and conditions related to your specific areas of interest are most helpful. If you are unsure how to pose your question(s), I am happy to help you reword a question. Your questions will bring streamlined focus to illuminate the guidance that is perfect and right for you and your journey. The suggestions that are revealed can offer healing, practical advice, and creative possibilities that are aligning you with your highest potential. There is no limit to what you can ask. Search your heart, and identify the areas in which you are seeking clarity, guidance and direction and the Akashic Records will illuminate insight that is specific to your soul.
Sample Questions Include:
Purpose:

What are my unique gifts, talents, and abilities? What are the best ways for me to use them at this time in my life?
What inspires me? Are there any obstacles in the way, and if so, how can they be removed?
What projects should I focus my energy on and why?
Career:

I am unemployed (or working) and considering two options with my career path. How would option A benefit me? How would option B benefit me?
What obstacles are blocking me from experiencing a positive work environment? How can I resolve them?
What actions would be most beneficial for my business at this time and why?
Relationships:

I am not in a relationship but would like to be. What is blocking me from being in a loving relationship, and what steps can I take to help manifest a loving partner in my life?
Why are my partner and I together? What are we meant to learn?
What becomes available to me if I stay or end this relationship?
Other:

I am – [retiring/starting a new life/considering a new job] - and considering a few places to live. What is available for me in each place?
I have been experiencing poor health. What is causing this, and how can I fix it?
What are my limiting patterns (financially, partnership, career, etc)? How can I heal them?
The Results
Cleared confusion. Healed pain or trauma. Clients leave with insights, shifts, and/or approaches that were previously inaccessible.
Deepened understanding and "seeing" of yourself and an opening to new possibilities.
Receptivity to a new place of support. Experiencing an openness to embrace who you are as a Soul as part of your practical everyday human experience.
A recorded session
Sessions are available: In-person; Local and Remote via phone or Zoom. Note, Akashic Records Readings are live sessions. Absentee sessions are unavailable.
What Akashic Records Readings Are Not:
Akashic Records Readings are not past life readings. Akashic Records Readings are not voyeuristic (an exploration looking into the lives of others). They are not predictive of outcomes (predicting the future). Akashic Records Readings are not meant to take the place of standard medical or psychological treatment or therapy.
Payment and Scheduling:
Thank you for considering booking a service.

Once payment is made, a scheduler email is sent to the email address used for payment. Please check your spam folder. Using the scheduler email, select the date and time for your session. Once complete, within 24 hours, you will receive a confirmation email along with a Zoom login if the session is remote. Note: If you don't receive the scheduler email, no worries! Our team will reach out to you to schedule.